With real-world results to back our claims, we're
#1 Search Engine Optimization Agency in Chennai




An 8-year journey is not too long, but we are proud that our dedication and efforts have been recognized along the way.
Why SEO Over Ads?
Why Spend on SEO when Google Ads are cheaper?
PPC may drive targeted traffic to your business almost instantaneously; but only as long as you keep your marketing spends up. You'll be paying for each click on your ad while it stays up and once you stop, you run out of customers overnight! If you completely rely on promoted Ad campaigns for customer acquisition, your brand virtually loses all means of revenue generation as soon as you stop those ads.
Alternatively, if a business invests time and resources in to ranking better on Google organically, it ensures a sustainable approach to improve the online visibility of the business. Also, it's best for Chennai based businesses that might benefit more from location-specific keywords to focus on local SEO than Ads. A nice example of location-specific keyword would be "Best SEO Agency in Chennai", which is us, by the way!
Benefits of SEO Services in Chennai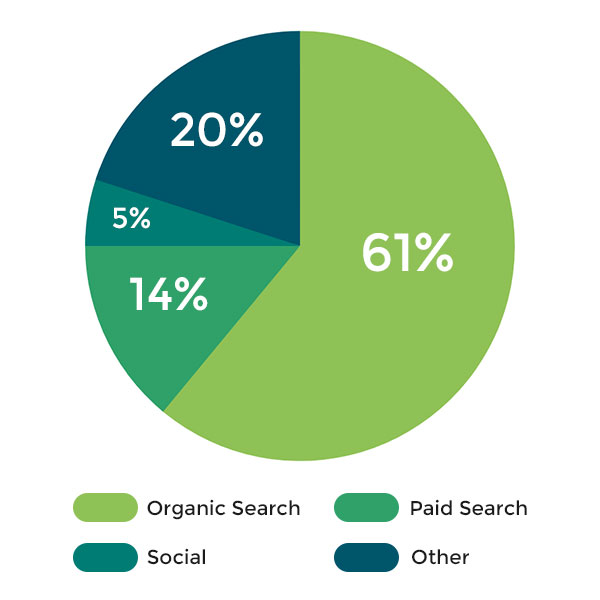 01.
Organic Traffic Rules
Statistics from SERPS behavior suggests that 67% of web users with a buying intent choose organic results over paid listings.
02.
Unlimited Leads
You enjoy a sustained inflow of customers once your web page ranks as opposed to a constant investment in Paid Ads.
03.
Brand Authority
Ranking high in organic search results for relevant keywords translates to better branding of your business.
04.
Cost Effective
If properly done, SEO is very cost effective and hence can significantly improve your marketing ROI.
Case Studies
300%+ Growth in Site Traffic through SEO
See how our Clients have achieved more than 300% growth in their Site Traffic. You should expect nothing less from the Best SEO Company in Chennai
We Provide Local SEO Service in Chennai
reach out to us to get the Best SEO Service in Adyar, Anna Nagar, Besant Nagar, Kotturpuram, Mylapore, Guindy, Ambattur & other areas of Chennai.
Why Choose Ozias?
While a self-proclaimed Best SEO agency in Chennai would claim to improve your organic rankings, they'd barely follow strategies that are associated with longevity in their results. One major Google update, and all your Internet marketing campaigns shatter to ground zero.
While we at Ozias, a highly experienced and dedicated SEO company in Chennai, are well versed with the insights of a successful SEO project. With almost a decade of consistent results, we've precisely deciphered what google prefers. Our proven SEO strategies have survived through the biggest algorithm updates whilst delivering groundbreaking results to our clients for their target keywords.
What Makes Us A
Top SEO Agency in Chennai
We have worked with clients across a multitude of business verticals. We know what strategies work best for what domains. We distinguish ourselves based on the rich SEO experience we've built through the years.
Local SEO Services in Chennai
Be it Google Maps or local SEO, we cover it all and provide result-oriented marketing strategies for your business.
Extensive Keyword Analysis
We analyze a variety of related keywords with their long-tail counterparts to find you the most profitable keywords.
Custom Tailored Approach for Your Business
We listen to your personalized requirements and frame our set of actions accordingly to provide the desired results.
Transparent Monthly Reporting
Being a reliable SEO company in Chennai, we believe in transparency. We track & share monthly analytics report with our clients.
Qualified SEO Specialists
At Ozias, our SEO professionals are made to go through thorough training modules, kept up to date with the latest SEO trends and algorithm updates.
New-Age SEO Strategies
As a leading SEO agency in Chennai, we follow latest industry practices & innovate new strategies to deliver the best possible solutions.
Are you Ready?
We've helped hundreds of companies get more "ready to buy" visitors to their websites from search engines, social media & more sources – we can do the same for you.